Frankenstein
Talk

0
534pages on
this wiki
Frankenstein
Age
1000+
Gender
Male
Race
Modified Human
Status
Active
Professional Status
Affiliation
Noblesse, Rai's Group, Ye Ran
Occupation
Rai's Servant, School Principal
Appearances
First Appearance
Chapter 4
Last Appearance
Main Character
Frankenstein (Kor. 프랑켄슈타인) is the deuteragonist of the series. He is Rai's devoted servant and has loyally served him for over 800 years. He is a genius scientist, whose abandoned research notes helped to bring the Union's scientific knowledge and technology to the advanced level it has reached in the series. Frankenstein is also the founder and current principal of Ye Ran High School, where he is known to all as Principal Lee. He is now the latest addition to the RK-5 bearing the title of Number 0.
Appearance
Edit
Frankenstein, like his master Rai, is very handsome and elegant. He is very tall and has shoulder-length silky blonde hair, with bright blue eyes and a very cheerful smile. When he gets too excited, his aura changes and he sports a very sadistic grin with an equally sadistic personality to match. He is regularly dressed in formal attires but switches to more casual outfits when at home.
Personality
Edit
Frankenstein is a very cheerful and loyal person, especially toward his master, but can become quite serious and calculative when the situation calls for it. Although Frankenstein has shown a sadistic side during his recurrent battles, like Rai, he is also compassionate towards human beings, especially towards the students in his school. Before he met Rai and the other clan leaders, he shows enmity and hostility toward the Nobles while displaying compassion and empathy for the humans who were getting attacked by mutants contracted to the Nobles.
He is seen on multiple occasions to be extremely organized and thus, he loathes messiness (especially in his house) almost to the point of obsession. However, it's unclear whether the obsession with cleanliness is due to a personal preference of being neat, or because his devotion to Rai is so strong that even a single crumb or speck of dirt in Rai's presence is unbearable to him.
He has been noted to be reckless, exceedingly dangerous, and bloodthirsty when he uses too much of his power, to the extent that he even got yelled at by M-21 for using a weapon he cannot control.
He has the ingrained nature of a scientist with a passion for experimentation. In the past, he used to do a lot of research work, which sometimes caused Rai's displeasure. Frankenstein's ways made Rai order him to seal his powers before Rai went to sleep. Now Frankenstein does his experiments with the consent of his subjects, although he sometimes indirectly forces them to. In contrast to the Union, Frankenstein treats his subjects well and considers them under his protection. The change in his ways has caused Rai to remove the seal on his powers. However, he is only supposed to use his full powers when given permission by Rai, as he was very upset in his battle with Takeo that he was disobeying a direct order from his master when he decided to use his full power. Rai usually withholds permission unless the opponent is extremely strong and the seal would handicap Frankenstein to the point where he might be harmed, like with the 12th Elder. He also takes extreme pride in his work such that after hearing of the incident with Na Yonsu, he tells M-21 and the others in Chapter 215 that losing, even intentionally, would offend him as he is the one looking after their bodies. This is enough to get them sweating, especially as Frankenstein started giving off a dark aura while saying this.
Now, Frankenstein fights not only for his master but also for everyone who is under his protection. Also, Frankenstein shows concern for his master when Rai uses too much power or removes the seal that restrains the immense power of his "Soul Weapon." This worry is due to the opinion previously stated by Frankenstein that Rai's body hasn't recovered even after such an extensive hibernation.
Background
Edit
Frankenstein (Kor. 프랑켄슈타인) is Rai's devoted servant. He supports Rai wholeheartedly, addressing Rai as his "Master." After Rai's apparent "disappearance", he had tried searching for his master to no avail. Frankenstein even left the Nobles and went into hiding to search for Rai because he had suspicions about someone in the Nobles contributing to his master's disappearance.
Frankenstein is also the principal and director of Ye Ran High School known as Principal Lee. He established the school hoping that someday his master will return and wished to provide a place where his master could lead a normal life. He was stunned to find Rai in his school office after Rai had woken up from 820 years of slumber, dressed in the school uniform.
Frankenstein is an impressive scientist, who had done an immense amount of research on human modification, before Rai's "disappearance." All the research he had conducted was recorded down in his journals. The Union stole some of Frankenstein's records and using this, they created the Dark Spear. Seeing the great danger for humans that comes with the Dark Spear, Frankenstein took it from the Union. One of Frankenstein's journals was found by the Union and another was found by Dr. Crombel.
Frankenstein's true identity was been revealed by Gejutel. He is apparently a human with powers to match that of a current clan leader. The exact details of how he has obtained such power is yet to be known, although it is most likely linked to how he was brought to the Nobles' attention in the first place. Many stories have originated with him in the human world, including tales of humans giving their souls to the devil in exchange of eternal life, mad scientists pursuing knowledge to attain eternity, and so forth. He also made a contract with Cadis Etrama di Raizel.
Plot Overview
Edit
Awakening In the New World ArcEdit
Like any other day in the past few years, Principal Lee of Ye Ran High School is in his office having a cup of tea and reading the dailies when Shinwoo, a student, walks in saying that he has brought a supposed transfer student. Principal Lee doesn't recall any notice of a transfer student coming so he asks Shinwoo to let in the student and return to his own class. Shinwoo tells the student to go inside and leaves. As the young man walks in and calls out to him: "Frankenstein", the principal cannot believe his own eyes for it is his long lost master!
The last time they saw each other was the time before Raizel went into hiding and that was 820 years ago. His master elaborates that he had been sleeping all this time only to wake up recently and end up in this place. At hearing this, Frankenstein is startled as it's not the hibernation place that his master usually uses. He assures Rai he will get more information on the building where his master awoke and how the casket came there. For now, he promises to aid Rai in the task of getting accustomed with the modern human world.
Frankenstein then arranges for his master to admit him as a transfer student in the same class as Shinwoo. He tells the homeroom teacher to take special care and overlook certain mistakes, giving the excuse that Rai is a foreigner. Frankenstein also gives Rai a photograph of himself with his cell number written on the opposite side just in case he gets lost!
The Human World ArcEdit
After school is over, Frankenstein having finished his duties for the day, goes back to his home, which is quite large for a single person to live. His solitude is broken when the children arrive with Rai. Frankenstein tells them that since he knows Rai who has come from a foreign country and has no place to stay, he'll be staying at Frankenstein's house for the duration of his studies here. The children bring with them worrying news; on their way here, a mysterious person with glowing eyes attacked Yuna. Although Shinwoo managed to rescue her on time, they ran away after Shinwoo threw a trashcan at the guy. Frankenstein assures them that he'll see to the issue and after the children leave, he discusses it with his master. Rai tells him that it was a being not meant to exist. He further reminds Frankenstein of a flaw he has committed—Frankenstein had forgotten to give his master money to buy tiffin! But the final bolt from the blue strikes Frankenstein when he hears what the children treated his noble master.... to Ramen noodles!
Frankenstein's duties increased manifold over the days as he has to not only perform his duties as principal at school but also as servant to his master at home. Looking after his technologically ignorant master as well as protecting the children is his top priority for the time being. To serve his master, he writes several handbooks as guides to the modern technology, arranges for the latest PC for gaming (after Rai loses—'killed' as his version of word—at the PC bang playing with the children), and last but not the least, focuses all his skills for scientific experimentation towards creating the perfect gourmet ramen noodles for Rai. The frequent visits from the children leave his house messed up every now and then. Frankenstein who treasures his possessions and likes them pristine, finds it very hard to tolerate.
Meanwhile, the mysterious attacker (infected who is one of the thieves who stole Rai's casket from Union) is aided by M-21 and M-24 to find his way to Shinwoo's apartment. An attack on the security guard there leaves Frankenstein quite worried next day and he tells the children to stay at Yuna's place for the time being. But soon Frankenstein receives a message from Ikhan that Yuna is kidnapped and Shinwoo and he are going to rescue her. Frankenstein conveys the news to Rai and they set out to save the children from danger. As they reach the place, Frankenstein uses his power to create a summoning aura. M-21 and M-24 who are behind the scheme notice it and answer the summon. The unexpected presence of powerful beings irritates M-21 who charges an attack on Frankenstein. However, Frankenstein proves to be more agile evading the attack and lands slashes on M-21's body which stops regenerating. Rai takes care of M-24. M-21 and M-24 understand that the two heroes are way too strong for them and decide to withdraw. Frankenstein warns them to stay away from the children as the two depart calling off the infected from Shinwoo. Rai and Frankenstein, then, go to the children and arranges for them to go home safe and sound.
Union ArcEdit
Days later, a sudden massacre at the hospital alarms everyone and Frankenstein suspects it to be the work of those troublesome two. Meeting up with M-21 and M-24, he learns that they're not involved in this. Two assassins of Union - Jake and Mary have caused the incident and the children might be in danger.
Frankenstein provides M-21 and M-24 with a cell phone for contact and keys to safe house. He further decides to keep a watch out for the two newcomers. With his master's permission, Frankenstein sets out on a night vigil and meets Jake and Mary. In order to dig out info on the Union's link with Rai's casket, he acts on and engages in a fight with Jake. Jake transforms but his speed and strength is outmatched by Frankenstein. Frankenstein bestows on him his regeneration stopping scars. Although Jake lets out a thing or two about Union, Mary stops him and pulls off. Frankenstein comes back home to receive the condolence of Rai at the fact that his cuffs got torn during the fight.
The next meeting with Jake and Mary follows soon enough when the children get kidnapped again. This time, Frankenstein faces Mary while Rai proceeds with M-21 to save the children from Jake. Mary proves to be a stronger opponent than Jake with her agility, lethal attacks and superior transformation. But she is shocked to see Frankenstein keeps up with her. To her amazement, Frankenstein lets out a sadistic grin and tells that everything about the modified humans originated from himself. With his master's permission to remove the seal binding his powers, Frankenstein emanates his true dark aura and eliminates Mary within seconds. Elsewhere, Rai has exterminated Jake, M-24 has died protecting the children and M-21 is left all alone. Frankenstein, sensing his master's powers, reaches the place quickly. Rai decides it best to wipe the children's memories and they let M-21 come home along with them.
After hearing how the M series were created by the Union, M-21 as the sole survivor now and his only wish to find the real identities of himself and his deceased comrades, Rai and Frankenstein decide to pay a visit to the local Union base and meet Dr. Crombel who's behind all this modification stuff. When the three of them arrive the labs, they find it already massacred and all the information destroyed. A dying Lt. Simon gives them info that all of it was done on Crombel's orders. Frankenstein dashes to look for Crombel while Rai and M-21 are left to search deeper only to find the Infected. Frankenstein reaches the helipad on the top of the building where he meets Crombel. They face off after short introduction and realize having matched powers. Crombel takes interest in Frankenstein, calling him 'Species B' and departs while Frankenstein heads back to his master.
Back home, Frankenstein relates the meeting with Crombel to Rai and regrets letting Crombel go so easily. But now it's over for the time being and Frankenstein's household has expanded to three as Frankenstein gives M-21 the freedom of staying there and appoints him as the new special security of Ye Ran.
Visitors ArcEdit
Frankenstein, busy in his office with paperwork, is visited by Shinwoo bringing in transfer students again. This time Frankenstein is shocked to see two children of the noble clans to walk in. Regis and Seira, the two nobles thinking Frankenstein to be a normal human, uses mind control on him to make arrangements for them to stay at his house and get admitted to school as transfer students. Although Frankenstein is not affected by this power, he pretends to be under control and does as they wished. He brings them home after school to find his living room already filled with Rai and the children who're joined by Suyi. The amount of mess booming out of control day by day, leave Frankenstein even more desperate to save his pristine house and master at any cost.
At night, Frankenstein accompanies his master to follow Regis and Seira to see what they're up to and find out that they are investigating the hospital massacre. M-21, who has come along with Frankenstein and Rai, asks if those two are really noblesse and if they (Rai and Frankenstein) are the same. Frankenstein replies that the two children are nobles but the term noblesse applies for only one being.
As days pass by, the atmosphere in Frankenstein's residence changes with Regis unable to stand the presence of a modified human. M-21 gets upset being constantly convicted by Regis of having sacrificed humanity to achieve power. Frankenstein can only calm the situation by telling M-21 to adjust for the time being or stopping Regis from fighting by announcing dinner time. Frankenstein continues to act of being a normal human under Regis' mind control in the hope that they might be nobles who refrain from harming humans. In that way, he can keep them (Regis and Seira) from using powers to fight M-21.
Meanwhile, Rai stays out from all of these as usual but develops a great obsession with ramen. So, Frankenstein takes initiative to conduct experiments to create the perfect gourmet ramen.
Seira and Regis continue with investigation. M-21 returns home and tell Frankenstein and Rai that they are out investigating once again. M-21 says he can't understand them, so Frankenstein decides to tell him about the origin of nobles. Frankenstein tells M-21 that in earlier days when there was no science and experiments, humans were very fragile beings and needed protection. They asked nobles for help and thus nobles helped them, thus giving nobles a god status. Nobles didn't have much interest in humans but it was humans who saw them as "Rulers" or "Nobles". The meanings have changed but some nobles still follow the path of not injuring or attacking humans. Regis and Seira are those type of nobles and so has refrained from harming M-21 in front of Frankenstein or Rai.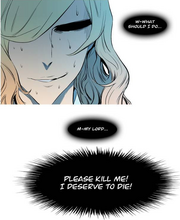 Things don't get any better as the children resume their frequent visits over at Frankenstein's house. The amount of mess keeps on increasing and the bickering of M-21 and Regis doesn't help clean it up. Frankenstein, angry at the mess on the table asks them to shut their mouths and clean the mess. M-21 tells Regis not to misunderstand him as Frankenstein doesn't like dirty house. Regis claims that he is a noble and is cleaning out of respect. They keep bickering on about what they ate until Frankenstein praises Seira for working without being asked to leading her to blush. Regis then notices Rai sitting and asks why he is not cleaning even though he ate everything. Frankenstein tries to stop him, but to no avail as Regis keeps speaking. This makes M-21 scared and Frankenstein angry but Rai gets up and starts cleaning the mess. Frankenstein wishes that his master killed him as he deserves death for being unable to do anything in this situation.
Later M-21 gets forced to go with the thugs of DA-5 and the whole situation is misinterpreted by Regis who relates it to Frankenstein. Frankenstein however assumes that M-21 must have had his reason. On following them, he meets Takeo and has a little showdown which is cut off in the middle.
When the children get involved in the mess again and Regis also gets captured, Frankenstein and his master, once again, head off to their rescue. There Frankenstein fights with Takeo as Rai goes ahead. The fight gets intense and Frankenstein uses more dark power than last time when he fought with Mary. He shoots dark projectiles at Takeo. Takeo consumes D to enhance himself and so Frankenstein removes his seal without his master's permission to outmatch the enhanced Takeo. With his powers in a different level, he manages to impale Takeo with a spear-like projectile. Then he follows his master's trail. Midway, he meets Seira with her unleashed Death Scythe. Seira understands that Frankenstein is not a normal human at all and threatens to use her weapon but he convinces her that he's not an enemy. Frankenstein reaches the base to find his master already have used his noble powers to wipe out the existence of Shark and Krantz. He arranges for the children, injured modified humans to make for home. Before leaving, he finds Rai wiping blood from mouth. At this, he presumes that his master isn't fully recovered nor stabilized after awakening. Frankenstein gets worried but Rai assures that nothing is amiss.
At home, the children are told about nobles and modified humans, the recent clashes and the true identity of everyone except Rai. Then with Rai's permission, Frankenstein wipes out their current memories. He treats M-21, Tao and Takeo. Frankenstein discovers that M-21 is implanted with a werewolf heart which makes him an invaluable object to study. He further checks on Tao and Takeo, developing new versions of D for both of them. Tao wipes out the traces of fight but later gets the info that Dr. Aris has come with Yuriy to investigate the issue. Frankenstein warns all to stay alert.
Dr. Aris ArcEdit
One evening, as Frankenstein is returning from grocery shopping, he gets kidnapped by Yuriy. He is taken to Dr. Aris who is overwhelmed to see such a beautiful specimen for experimenting. Frankenstein remains as still as a mannequin and listens to the constant jabbering of Dr. Aris to get info on the Union. He learns there is conflict between her and Dr. Crombel and she suspects Crombel of having eliminated DA-5.
Meanwhile, his absence overshadows his residence atmosphere and Rai texts his loyal servant being worried himself. Rai's incoming message gives away Frankenstein as Yuriy realizes his powers had no effect on him all this time. Frankenstein says that he'll be going home but Aris gets enraged and orders her subordinates to capture and kill him. Frankenstein proves to be too much for them and Yuriy steps in. A display of precise power applications gives away their location to the searchers (Takeo, Rai and M-21). Aris brings out her nan-suit and uses it to fight Frankenstein. Still, he proves to have the upper hand and is about to finish her off when a sudden interruption from Takeo reveals that she's his sister Teira. But misunderstanding clears when Aris grabs Takeo hostage and reveals that she has been playing off with the fake identity for fun. She consumes the D (made by Frankenstein) but the boost of power doesn't last more than a couple of moments and she collapses. Yuriy takes her body and flees with such a power display which clearly shows he has been withholding his powers all along. A worried master and servant reunite and everyone returns home.
Back home, Frankenstein and Rai stand at the balcony and Rai questions why he went along with them at the first place. He wonders if Frankenstein is likely to go back to his earlier self. Frankenstein finds it dismal that his master does not trust him yet. After conversation with master is over, he faces M-21 who requests him to let Tao, Takeo stay with them. Frankenstein agrees and tells him that he need not request as it's his home too. After everything being over, Frankenstein returns to his busy paperwork's as the trio form Ye Ran Special Security.
Nobility ArcEdit
As usual, Frankenstein finishes a busy day at school and comes home with his master. There he is surprised to find one of the noble clan leaders, Gejutel K. Landegre. It is clear that he and Frankenstein are known to each other as they dismiss others for a private conversation. Gejutel wonders why Seira and Regis are staying with Frankenstein, not hiding his mistrust and asks if Frankenstein is still looking for his master. The negative reply astounds him but Frankenstein clears the misconception by saying that he doesn't need to look for his master who's been found already. To prove his word, Rai emerges, addressing Gejutel who answers the call with due respect. The three of them sit for a conversation meeting after a long period of time. As Rai had been asleep for 820 years and Frankenstein followed him to hiding, they have no knowledge what has occurred in the noble world during all this time. Frankenstein inquires Gejutel about Seira weilding the soul weapon of her clan which marks her as clan leader. Gejutel brings news that Loyard clan and his son were killed about 100 years ago in a chaotic situation which followed the previous Lord's death. Before dying, the previous Lord had wished to see Rai. This grieves and shocks both Rai and Frankenstein.
Hundreds of years ago, Gejutel and Frankenstein were sitting face-to-face, engaged in conversation. Back then, Frankenstein shared his intention of going to look for his master while hiding himself from the nobles. It wasn't readily approved by Gejutel as Frankenstein was not supposed to leave their sight. Wanting to go and look for Rai alone hinted that he didn't trust other clan-leaders. Gejutel asked him if he had wanted to disappear, why did he tell him? Frankenstein had one reply ~ it was because of what Gejutel showed in front of his master. Even though they were not in good terms, they hoped to meet again, when Frankenstein finds his master.
The wheel of time has come to the same point and made them meet. Gejutel is amazed that Seira and Regis goes to a school which Frankenstein has put up. He has been suspicious about the possible motif but is relieved to find that Raizel attends the same school. He trusts Frankenstein won't dare be irresponsible where Rai is concerned. At the same time, he finds Ye Ran quite weird as it's made by Frankenstein. Gejutel remarks Frankenstein to be a frightening person who has brainwashed the nobles as well as modified humans and makes them work for him. Observing that Regis and Seira have put their trust in Rai and Frankenstein and Rai himself wanting to stay here rather than go back to the land of nobles, Gejutel decides that it is time for him to go back.
Following days prove to be troublesome as one more noble visits Ye Ran; this time, not bringing a friendly air. It is Rael, who has come to take Seira back to Lukedonia. He immediately makes his presence known by releasing power, injuring M-21 and picking a fight with Regis. This chaos don't go unnoticed but Frankenstein is reluctant to reveal the presence of him and his master to other nobles and stays out of it. Returning home, everyone learns from Regis about the identity of Rael and how he had proposed Seira who rejected him continuously. In order to prevent anyone's involvement in the matter regarding Rael, Seira and Regis decide visit him themselves. Rai sends Frankenstein after the two noble children, to go and greet the visitor courteously. Frankenstein enters the fight, saving Regis and introduces himself as the landowner of Seira and Regis, keeping his smiling face intact and courteously threatening Rael at the same time. But Rael proves to be too arrogant and the two involve in a fight. After sometime, Frankenstein realizes that even though Rael is not a clan leader, he seems to be carrying a soul weapon in secret. He tells him to bring it out as he felt the aura of Rael's predecessor. Rael is shocked to learn that he knows about it. He brings out Grandia and starts to fight in a deadlier way. Frankenstein also powers up to pay the noble proper respect and summons his Dark Spear. The dark aura of his power sends chills among his opponent and spectators. Even Rai feels it from home and gets worried. Frankenstein and Rael then clash causing a colossal explosion. The fight continues and lot of destruction is caused by their fight. In order to prevent any more destruction, Seira decides to intervene herself. She releases her Death Scythe and asks Regis to try keeping the damage in the area to a minimum. Before Rael and Frankenstein could clash again, Seira causes a large attack in the middle to stop them. Rael then reveals that Seira is actually summoned by the Lord and shows the summoning seal. Seira obeys the summon and follows Rael immediately.
Lukedonia ArcEdit
Frankenstein returns home and the matter is stated to Rai. His master decides that they can no longer keep themselves away from Lukedonia. So, Frankenstein prepares for the journey to the land of nobles, Lukedonia. He tells M-21, Tao and Takeo to stay home and take care of everything. He secretly arranges one of his private jetplanes for special take off. As Frankenstein, Rai and Regis get on board, Tao, Takeo and M-21 sneak into the plane. The plane takes off and reaches the skies of Lukedonia. Then Frankenstein, his master and Regis jump off the plane, leaving it to crash-land with the unknown passengers. After the jump, they make their way to the Forbidden Region, which is, to Regis' surprise, the original home of Cadis Etrama di Raizel. It has been guarded by Central Order guards as the previous Lord declared the area forbidden after Rai's departure from there. Frankenstein makes a mansion visible in the place where there were hills and they enter it while Regis lingers back to take care of all guards. This brings in the trio (Tao, Takeo and M-21) who aid him and all of them are allowed to stay at the mansion. Frankenstein goes with his master to the hibernating temple. Frankenstein wonders if Rai wants to go back to hibernation once again but Rai drives away his fears by telling that he's just going there to check something. Once the temple door opens, they find the biggest surprise left from the previous Lord ~ RAGNAROK. Suddenly an imprint of the previous Lord appears before Rai and Frankenstein. He speaks to Rai saying that he is disappointed that Rai hasn't visited his grave first but he is glad that Rai is safe. As the message ends, the imprint disappears.
The news of intrusion in the Forbidden Region and the appearance of a mansion soon reaches to the Lord and clan leaders. Gejutel gets sentenced to death while Seira is imprisoned, the Lord orders Rael to capture Regis and later sends Rajak and Karias to capture the chief miscreant (Rai). Meanwhile, in Rai's mansion, Frankenstein explains to all the reason that caused this unwanted happening. It's because his master did not want to reveal his presence compelling Gejutel to make a false report. Rai decides that it's time to go to the previous Lord's shrine to pay tribute. Frankenstein comments that it'll be hard as the shrine is in the deepest chamber within the castle and only the princess (the current Lord), who has never been in good terms with Rai, has access there. Nevertheless, all of them start for the castle; Regis and the trio go ahead. Regis paces up while the trio cover his back but the latters get cut off by Rael. The battle seem pretty one-sided and Rajak shows up just on time to see Rael using his soul weapon as well as Rai and Frankenstein approach the arena. Frankenstein wants to take care of the mess and requests his master to hurry or the full moon will set and he won't make it to the previous Lord's shrine. Reminding Frankenstein the fact that his opponent this time is the Kertia clan leader, Rai tells him not to hold back and permitting to remove the seal binding his powers, he leaves.
Frankenstein stops and rebukes Rael who has been intending a sneak attack and tells that when it comes to battles he is more experienced having fought their father as well. At this, Rajak steps in telling his younger to keep away from this fight and shows proper courtesies to his opponent by bringing out his soul weapon, Kartas. Frankenstein is impressed on Rajak's control over the soul weapon and summons his own dark weapon. As Rajak hides himself along with his aura and attacks, Frankenstein lets out massive blasts of spears piercing everything surrounding him. Frankenstein warns Rajak that even his predecessor could use that move only once in front of him. Rajak creates doppelgangers but this time Frankenstein has a problem from within ~ his weapon starts to engulf him! Simultaneously, Rael makes a stealthy attack on the trio. Frankenstein is just on time to save them but it costs him a lot of blood as he receives a fatal blow from Rajak. Rajak scolds Rael for interfering, apologizes to Frankenstein as the diversion caused by his little brother has allowed him to get those blows and even slashes himself to compensate. At this, Frankenstein concludes his opponent as a worthy clan leader and gears up to continue the battle to the end, hiding his own trouble with weapon from others with all possible effort. Frankenstein's malevolent aura increases due to his weapon's dark nature. Even Rajak feels that his opponent is getting stronger and wonders how can that weapon match the power of his soul weapon. Rajak gradually falls behind as Frankenstein and his dark weapon grow stronger and savage by the minute.
Elsewhere, Gejutel's final time has come and he is taken to the previous Lord's shrine. He chides the Lord's decision of sending Rajak and Karias to capture Rai. He reminds her of the person who has always been by the side of Rai and that follower must be overcome first. Rajak and Karias will only be enough to face that guy. Long ago, there was a disturbance in the world and the previous Lord sent the leaders of Landegre Clan and Kertia Clan to capture a mere human. That person is someone who is human, yet has the power rivaling that of a clan-leader; he is the sole human the previous Lord chose to acknowledge; he is FRANKENSTEIN. And the person he follows is none other than the one whom the previous Lord wanted as his heir. With his extraordinary briefing, Gejutel astounds all the clan leaders and the Lord decides it best to perform the execution fast. However, she is interrupted by Cadis Etrama Di Raizel himself and the battle between the Lord and the True Noblesse finally commence.
Feeling the power collision, both Frankenstein and Rajak stop fighting and rush to the castle where their masters, the supreme governors of blood are engaged in serious power display. Frankenstein realizes that Rai has removed his seal which is fatal to himself. So, he speeds up and reaches the shrine to urge his master to stop. But Rai continues to use his power and when the Lord manages to create a reasonably powerful blood field, he finally retires. Then Rai hands the real Ragnarok over to her and the battle ends.
Static ArcEdit
Frankenstein steps up to explain everything, changing his attire first and exchanging formalities with the current Lord of nobles. He informs her that Ragnarok was left to his master by the previous Lord without his master's acknowledgement in their house. As for two Ragnaroks, another soul weapon has also been split into two as example, one of the bearer of which has just arrived. Rajak enters and the Lord justifies Frankenstein's statement with him and learns the fact has been hidden till now as per the wish of the previous Kertia clan leader. The other clan-leaders are surprised to see Rajak hurt, acknowledging the truth in Gejutel's words about Frankenstein's strength. Frankenstein continues his narration of events: his master and himself has returned to their home after several hundreds of years. His master who had been asleep for 820 years ever since his disappearance. They had no intention of returning so soon, if it wasn't for Gejutel. The Lord and the others realize that if Rai had been asleep all that time, he could not be related with the traitors' uprising. Later, another imprint rises from the previous Lord's casket and explains why Ragnarok was left in Rai's shrine.
With every misunderstanding cleared, Rai leaves for his mansion and Frankenstein follows his master. They walk under the glowing moon. Frankenstein worries about his master who is very likely to be unwell after breaking the seal. Rai tries to assure him that he is well, but his servant see through his false assurances, so Rai cannot deny that he needs to take a rest.
In the mansion, Rai re-affirms Frankenstein that he does not intend to go to another slumber. While having his cup of tea, he asks Frankenstein if the weapon acted like before during the fight with Rajak and receives an affirmation. Upon the entrance of Regis, Seira, Tao, Takeo and M-21, the atmosphere gets more homely and Frankenstein even cooks ramen for dinner! Frankenstein appreciates Tao's talents in changing the entire security system of the mansion which he himself had set before. A sudden explosion distracts all of them. A Union fleet happens to have invaded Lukedonia after its sudden exposure because of Rai and Raskreia's fight. Ludis is dispatched to handle the situation but some survivors flee right to Rai's mansion, firing rampantly at all directions causing mess in the house, ignorant of their fate. Tao knocks them unconscious to assuage a murderous mood assuming Frankenstein. Later, they are taken to prison by Central Order and Gejutel thanks Frankenstein for handing them over alive. Gejutel inquires after Rai's present state after the exertion of power during the clash with the Lord. At this, Frankenstein is enraged and he accuses Gejutel for creating the mess.
He leaves Gejutel and enters the dining room where at the ends of a long table sit Rai and the Lord. Regis and Seira serves them ramen. Raskreia asks Rai if he will stay in Lukedonia but Rai replies that he will return home. The Lord is quite astonished that he has called the human country his home. The trip to Lukedonia finally being over, everyone returns home and Frankenstein is once again busy taking care of all the piled up paperworks at school.
Frankenstein passes happy time conducting regular check-ups of Tao, Takeo and M-21 in his basement lab who wonder if he is really a human after having heard and seen him at action back in Lukedonia. At school, two new visitors, Yonsu and Sangeen come to meet Principal Lee of the prestigious Ye Ran High. Frankenstein has been informed beforehand about their coming by a formal letter from the government and welcomes them. The two make a briefing that the government wants to run assessment on the students to handpick young talents so that they can be put to good works later. He grants them permission to make assessments confidentially. As they leave, Frankenstein wonders why two enhanced humans who can hide their aura reasonably well, are sent by the government to his school. Back home, he conveys the news to everyone adding that he cannot reject this offer without strong, valid reason as it's government matter. So, he tells Tao to check on the modified humans, Takeo to observe their moves and Seira and Regis to abstain from acting under any circumstance.
Frankenstein assigns teaching Social Studies and P.E. to Yonsu and Sangeen respectively so that they can examine students. He tries to wheel out info on the probable candidates but Sangeen covers that up diplomatically. When the temporary teachers set out for their assigned tasks, the principal understands that those guys haven't come to investigate his school. Returning home, his suspicion turns to affirmation as Tao reports that their is no official data on Yonsu and Sangeen in any government work.
Setting the RK-4 on continuous observation, Frankenstein spends some time alone with his master. They hang around on the top of a high-rise building. Frankenstein once again tries to convince Rai to go into hibernation as the affluent use of his powers in Lukedonia is tolling on his health. Rai declines saying that he wants to spend some more time in the place Frankenstein has made for him, a place that Frankenstein created specifically so he could experience a normal life, and wonders if that's greedy of him. As they arrive home, Tao shares the info he has found out about the two newbies in the locality. Na Yonsu and An Sangeen are members of the KSA. The scholarship program is actually a recruiting program and their current shortlisted candidates are: Shinwoo and Ik-Han. Frankenstein becomes worried because if the children become KSA employees, they won't lead a normal life anymore and will find out the truth which might disturb his master's wish of living there.
The next day, Yonsu and Sangeen use their subordinates to test Shinwoo. They are, however, caught by M-21 who doesn't hesitate to show hostility as they intended to harm the children. Sangeen calms the situation temporarily. Tao reports what has happened to Frankenstein who deems this a golden opportunity to use the turn of events to his advantage. As Principal Lee, he refuses to co-operate with Yonsu and Sangeen in their assessment for sake of the safety of his students. With the two agents out of school, Frankenstein and the trio celebrate the success heartily.
However, trouble doesn't let go as Yonsu and Sangeen repeatedly try to enter school premises and get stopped by the special security. One of their rendezvous leads to a short clash between M-21 and Yonsu involving a bit of power on both sides. They stop in time though. After the news is conveyed, Frankenstein concludes it a result of M-21's nasty temper and becomes a bit reproachful on him for letting out a suspicious move. But they are his experiments now and it'd be a shame if they lost. So, he lets go of the matter. Yonsu and Sangeen sneak into the school at night to test the real power of the special security. This time, Yonsu goes on a head-on clash with M-21. Both of them use their modified power to undermine each other. Realizing the fighting potential, both of them present each other with the same question of whether they're from the Union. After misunderstanding clears up proving the agents are originally being nothing but patriotic and the three modified humans wants nothing but to live peacefully, they make a deal between themselves to keep each others' secret. The night's work is again reported to Frankenstein who comments it as a job well done.
The coming days Frankenstein witness his master showing symptoms of profound deterioration. He is compelled to ask his master a question of enormous significance: what happened 820 years ago that compelled Rai to enter sudden hibernation? Rai reveals that 820 years ago, he was forced to use his true power because of the traitor clan leaders. There was no other way than separating himself from the nobles and retreating to hibernation for a while. Hearing the truth, Frankenstein vows to punish those miscreants for the unforgivable crime.
Cerberus ArcEdit
Tao brings news that KSA has been attacked by Cerberus which is the strongest military unit of the 12th Elder. They have come to Korea along with Yuri. Frankenstein deems it quite a bad condition since of all times, it had to be when his master is weak. He is determined to keep his master away from acting under any circumstance and delegates the job of handling the situation to RK-4. They rush to rescue their KSA pal from Cerberus. Several fights start off simultaneously while Frankenstein still hides from Rai that the trio has left. But he fails to keep it a secret for long and Rai wants to participate as well to try defend the lives that they've built here. So, once again, Frankenstein sets off with his master towards the battle zone.
On the way, Rai senses a familiar aura of Roctis' coming from the 12th Elder who has just arrived with Taze. They realize that Roctis, one of the traitor clan leaders has joined Union and formed contract with the 12th Elder. Wasting no time, Frankenstein attacks the elder after wiping out the existence of Cerberus by killing Rodin. The 12th Elder fully transforms for battle hurling insults at his opponent. With his master's permission to use his full power, Frankenstein brings on the Dark Spear. He gets more violent with the moment to kill the contractee of the person who's one of the reason of his master's ill health. But Rai calms him down. Realizing that he's losing, the elder takes Rai hostage planning his escapade and boasts about having fully destroyed KSA base and agents. Getting enraged hearing about murder of innocent lives, Rai uses Blood Field to eradicate the existence of 12th Elder. After the battle is over, Rai has his back turned to the spectators as blood trickles from his mouth, alarming Frankenstein who immediately rushes to his master's side. Frankenstein agrees with his master who's unwilling to create a scene as there are too many people present. Frankenstein then turns towards Sangeen and Yonsu, and states that he would appreciate it if they didn't tell anyone about what they had seen.
Back at the house, Frankenstein explains about the modification and contract of the 12th Elder with Roctis, one of the traitor clan leaders who is now in the Union. They then discuss about the ramifications of killing the Elder and his main military force, Cerberus and how it would inevitably lead to a future confrontation with the Union. Rai wishes all of them to leave the place as their lives are no longer safe. To prevent them from misinterpreting Rai's message, Frankenstein explains that they're not sure if they can protect them now as the more Rai uses his powers, the shorter his own lifespan becomes. Every time he saves them he does so to let them live the life he has never had. At this, Tao, Takeo, M-21 willfully swear allegiance to Rai; Regis and Seira also join. The RK-4 becomes RK-5 with Frankenstein as 'the boss' and everyone decide to face whatever is to come together.
In a secret room of his house, Frankenstein summons a mass dark power. As soon as he uses it, a voice starts cursing him for still being alive. Frankenstein leaves with a ball of dark energy in his hands. Later, Frankenstein gives Rai a ring that was created from the same dark powers as Dark Spear. It is meant to augment the power of the seal Rai received from the Previous Lord, in order to prevent Rai's power from constantly leaking out. Rai receives the gift from his loyal follower and both retire to a happy dinner with the family.
12 Elders ArcEdit
Powers & Abilities
Edit
Frankenstein is an immensely powerful individual whose true power can hold its own against a Noble Clan Leader and easily rivals that of a Union Elder. It was revealed early in the series that long ago, Rai had sealed most of his powers due to his misuse of them in the past. Though, this seal appears to be more like a verbal command that Frankenstein obeys out of his respect and love for his master, as in one instance, Frankenstein was able to unleash his full power even when Rai hadn't given him permission to do so. But even with his powers sealed, he is still a formidable and powerful individual, making quick work of the earlier Modified Humans seen in the series, like Jake and even forcing a DA-5 member to quickly resort to using a D pill in their battle. After 820 years, Rai has finally consented to remove the seal. However, whenever Frankenstein gets serious in fights by using his full power, Rai still shows a considerable amount of anxiety.
After his first battle with Rael, Gejutel stated that he had not shown his true power or else Rael wouldn't have been alive at that point. This is proven to be true, as he quickly defeats Rael in an instant when they met the second time. Gejutel infers that he could be able to handle two of the current Clan Leaders at the same time. It has been stated in Chapter 190 that despite his immense powers, he is actually human and is in fact, the only human acknowledged by the previous Lord in terms of power. During their sparring sessions, Ragar himself stated that Frankenstein held power that was equal to his.
Scientific Expertise
Edit
Frankenstein is well-known for his immense intellect and is possibly the most intelligent being in the entire series as he had been creating and inventing machines and doing experiments that had been centuries ahead of his time. He is shown to be an incredibly skilled and talented scientist, to the point that Tao and Takeo have admitted that he is more advanced in the field than possibly anyone within the Union with the likely exception of Dr. Crombell (although it is hinted Dr. Crombell is not exactly the genius he is made out to be, instead making use of Frankenstein's diary notes in order to gain knowledge) . Over the course of his long life, Frankenstein has gained an immense amount of information about the world, which ranges from knowledge of basic civilized society and the latest technology, to secrets of the Union and the Noblesse society.
Physical Prowess
Edit
Frankenstein possesses high physical capabilities. His speed, strength and durability can be equated to that of a Noble. His physical abilities are easily a match for a Noble. He is shown to possess tremendous durability. He was able to take hits from Rael's soul weapon Grandia, only receiving mild injuries that he laughed off. He is also able to withstand multiple hits from Rajak, during his fight with the clan leader. Both times he is shown to be unhampered by any severe injuries he received. On another occasion, he is shown to be able to block bullets using his bare hands (albeit coated in his powerful aura). He is also extremely fast and is shown to be able to keep up with Rajak, who is the leader of a Noble clan that specializes in speed and is known to be incredibly fast. His speed is to the point where he could dodge bullets point-blank.
Telepathy
Edit
Mind Control: Frankstein also possesses telepathic abilities such as mind control. He wasn't shown using it in actual fight, but he used it at the begining of the series to erase the children's memories and replace it with another. He also used this method to avoid detection in the past by erasing the memories of Nobles that he had captured and experimented on.
Mind Control Resistance: Frankenstein has a high level of resistance to mind control, as shown when Regis attempts to control his mind, but fails mainly due to the erroneous thinking that Frankenstein was a regular human. It is likely Frankenstein would have resisted a mind control attempt even if Regis had known he was not normal, as Frankenstein is shown to have pretended to have submitted to Regis' mind control only to prevent any action that would reveal Frankenstein's power and thus, Rai's presence. Another noteworthy instance is Yuriy's 'ability,' which involves the use of gas. (Note: Dr. Aris calls it an ability later on.) He also implanted this ability to M-21; Takeo and Tao.
Spiritual Prowess
Edit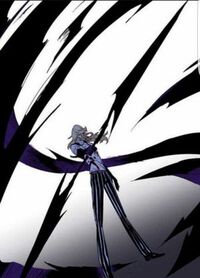 Frankstein has the ability to manipulate his spiritual energy, aura, in battle. He can solidify his aura into dark matter like constructs, such as giant blades. His powers deal significant damage to modified humans, in particular. This is because the injuries inflicted by his dark aura cannot be healed by normal means.
Dark Aura Projections: He can solidify his aura energy into dark matter spears to attack his opponents. These spears can be as large as a skyscraper, and strike with deadly accuracy, power, and speed. Frankenstein usually uses the spears in order to test his opponents's skill and reaction.
Dark Aura Beams: Frankenstein can shoot dark aura beams and and create massive waves of energy. The blasts have the power to blow away city blocks or large areas of forest and cause tremors in the surrounding area.
Soul Weapon (Artificial)
Edit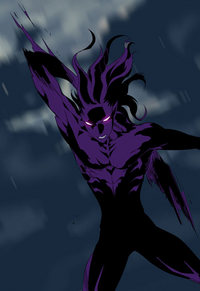 Dark Spear: When his full powers are released, Frankenstein is able to use a weapon called the Dark Spear, which is very similar like a soul weapon, but it emits a tremendous amount of dark aura. Frankstein summons the weapon by saying "Answer my call, Dark Spear". This causes the sky to rumble and black lightning flashes around him. Then, a dark vortex swirls around him and Dark Spear materializes in his hands. With his weapon, his powers increase dramatically, especially his dark aura manipulation. Dark Spear is on par with true soul weapons, allowing Frankenstein to battle against Clan Leaders.
Although tremendously powerful, this weapon has one major flaw: it tries to devour its own master. It starts with his arms and then covers his whole body. The reason for this is because Frankenstein used the souls of humans and Central Order knights in order to make the Dark Spear. This is an imitation of the Clan Leaders' weapons, which are empowered by the souls of their predecessors. The presence of the souls of those who Frankenstein experimented on inside the weapon causes it to burn with hatred for its master. As Frankenstein sustains injuries in battle, his ability to control the Dark Spear gradually decreases, which leads to his fighting style becoming more savage. When it almost fully consumes him, he becomes extremely powerful, feels no pain from wounds and loses control on himself. However, Frankenstein is shown to be able to regain control of his weapon if it "drinks" the blood of a powerful opponent. The Dark Spear is also able to absorb an opponent into itself, dissolving their body in aura energy and consuming the soul. This makes the Dark Spear much more powerful. This ability is automatically triggered upon the impalement of an enemy. 
Costume Change
Edit
Like his master, Frankenstein has some control over his clothes albeit not to the extent Rai has shown.
Frankenstein is based off Victor Frankenstein

 a 

fictional character

 and the 

protagonist

 of 

Mary Shelley

's 1818 novel 

Frankenstein; or, The Modern Prometheus

. He is an 

eccentric

 

scientist

 who, after studying chemical processes and the decay of living beings, gains an insight into the creation of life and gives life to his own creature (often referred to as 

Frankenstein's monster

, or incorrectly referred to as simply Frankenstein). This can be compared to Noblesse's Frankenstein's research on physical modification and natural and supernatural phenomena, which the Union used to create the "moster" known as Dark Spear.

Frankenstein's Dark Spear bears strong resemblance to Ulquiorria Cifer's Lanza del Relampago from the Bleach anime and manga series. They are double sided spears of spiritual energy (albeit different colors) that can cause enormous damage.