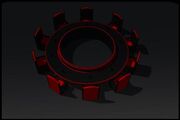 The Union (Kor. 유니온) is a secret society that studies, researches, and experiments with live humans in order to develop superhuman powers. The process of each experiment has been shown to be excruciatingly inhuman, painful and torturous, and only a handful of few subjects make it through alive. Their activities and influence span the globe and are conducted in absolute secrecy, so secret that they will eliminate any witnesses, even if they just encountered one of the agents or stumbled upon them in their missions. The organization doesn't have an official name and is often simply called "The Union". The Union is headed by the Elders, each of which have their own part of the Union that they are in charge of.
It is unknown when did the Union was founded, but it traced back over thousands years and The Union had long been conflict with the Nobles. Using Frankenstein's theories as a foundation, the Union created the Dark Spear through human sacrifices and other gruesome methods in order to imitate the Clan Leaders' soul weapon before Frankenstein stole it. The organization had conflict with Frankenstein as well, they tried to steal Frankenstein's research in order to advance their technologies such as human modification. The Union has long collaborated with the six traitorous Clan Leaders, doing atrocities involving mutants and harming innocent lives that the Lukedonia is unaware of. After the six traitorous Clan betrayed the Nobles, Some of traitors hid within Union and joined the higher ranks.
It is said that out of many human organizations, Union is by far the biggest and most powerful. It is also implied to be the very first 'group' ever to be established by the mankind. Its influence can be found practically anywhere, such as culture, sport, economics, politics, etc. Also, every country has a subsidiary organization which works under the Union and is responsible for all communication between the country and Union. An example of this is KSA, in charge of South Korea.
The Union comprises of four main different types of members:
The Elders: 13 members who chair the director board. Their numbers indicate their seniority, power, or influence. They head the Union's different departments and make executive decisions. 
Modified Humans: People who have often forcibly experimented on by the Union and as a result have developed superhuman powers and abilities. They operate in elite groups under the supervision of high-ranking scientists. They are ranked according to their strength. They carry out special combat orders, gather intelligence, and serve as bodyguards.
Researchers: Scientists who develop the human modification technology.
Soldiers: Normal humans who carry out normal combat orders.
Ad blocker interference detected!
Wikia is a free-to-use site that makes money from advertising. We have a modified experience for viewers using ad blockers

Wikia is not accessible if you've made further modifications. Remove the custom ad blocker rule(s) and the page will load as expected.